Luverse is a place where your love fantasies become reality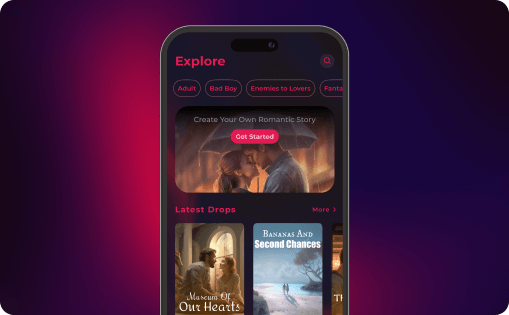 Love and drama
Discover the vast selection of love stories that will make your heart racing. Pick any category you want, there is something for everyone.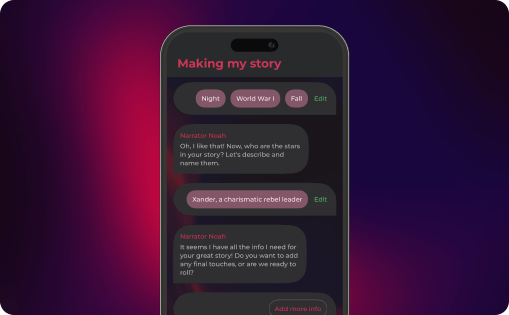 Create a story of your own
Fresh with ideas? With our AI-driven storyteller, you will bring them to life. Outline the background, plot, or characters, and AI will take care of the rest.
Adjust your reading experience
To make your reading sessions as comfortable as possible, you can make adjustments, such as picking the right text size or switching between light/dark modes.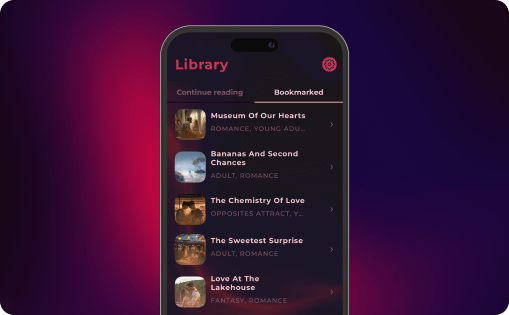 Build a library
Save interesting pieces for later on the digital shelves of your library. Romantic novels you are currently reading also rest here, available at your fingertips.
Luverse features you will love
AI creator
Create stories based on your ideas with a bit of help from our creative AI-based storyteller.
High-quality stories
Every narrative comes from a qualified writer and offers a summary to tease a plot to you.
Genre for everyone
Luverse offers passionate narratives from so many categories that no one will be left out.
Epic reading experience
Customize text settings to your satisfaction and switch to dark mode when the sun comes down or whenever you want.
Sharing with others
Don't put stories you create into a drawer. Share them so other users can read them.
Library management
The library is where you find your current reads and stories you save here for later.
App Store ratings & reviews
The best romantic stories ❤️





May 6
95Christine_9
As a busy person, I don't always have time to read a full novel. But with Luverse, I can read short romantic stories on the go and even create the ideal story of my taste! Highly recommend to all busy people out there.
I wish I knew about Luverse sooner!





Feb 12
sun_ray
Luverse is a great app for romance lovers and it has also had a positive impact on my mental health. It has beautiful visuals and helps me to relax and escape from my daily stressors. Thank you for allowing me to unwind my imagination and improve my mental wellbeing.
Just what I needed





May 8
MommaOf3
Luverse app offers so much variety and safe place to explore romantic desires, especially with the create your own story feature. I can speak out my ideas and get what I desire. So, if you are thinking about the purchase, don't hesitate and go for it. No regrets, guaranteed!
Heartwarming novels





Mar 23
princessOfLove
I appreciate the Quality, variability, and well-written stories for easy reading! If your preferences are a bit more specific, you are can create your dream story thanks to the in-app chat. I also love the library feature. I cannot wait for new episodes!
Love it!





Apr 1
MarcelloXx
This romantic app is one of the best I've come across! It became a part of my daily routine. I hope you'll never stop adding new stories because I'm becoming obsessed!
Amazing app





Jun 26
Elise23x
Lovely app design, easy to use and unbelievably romantic novels. This is what I've been missing in my life - a piece of romance for lonely evening reading when my husband is out of town. Thanks for making Luverse.
Frequently Asked Questions
Question:
How often are new storied added to Luverse?
Answer:

Luverse regularly updates its collection of stories to provide users with fresh and exciting content. You can expect to see new stories multiple times a week, so you will never run out of fresh content. The Create your own story feature enables you to generate brand new tailored stories without limits based on your specific requirements.
Question:
How does the Create your own story feature work?
Answer:

Luverse is proud to introduce an exciting feature called Create your own story that uses the power of AI. This feature empowers you to unleash your creativity and generate a unique story based on your specific preferences. You can choose from a diverse selection of pre-defined options to shape the story according to your desired genre, characters, environments, and many more. However, if you have a specific vision in mind, Luverse's narrator will patiently listen to your requirements. To further enhance your reading experience, the story will even be complemented with a captivating image. With this feature, your imagination knows no bounds!
Question:
Can I find Luverse stories anywhere else?
Answer:

No, you cannot. Luverse stories are exclusively crafted by our team of qualified authors and cannot be found anywhere else. We take pride in offering original content that our readers can't get enough of.
Question:
Can I cancel my Luverse subscription at any time?
Answer:

Yes, you can cancel your Luverse subscription at any time. We believe in providing our users with flexibility and freedom, so you can cancel or change your subscription type at any time you wish.
Question:
What subgenres of romantic stories does Luverse offer?
Answer:

Luverse features a diverse collection of romantic stories to cater to different readers, ranging from sweet to steamy. You can choose from various subgenres like Romance, Alpha Males, Fantasy, Adult, Friends to lovers, LGBTQ+, Love triangle, and many more. In case you don't find the story subgenre of your taste, the Create your own story feature powered by AI will take care of your specific preferences and create an unlimited amount of your ideal romantic stories.
Question:
Are Luverse stories visually enriched?
Answer:

Yes, all stories are visually enriched! We want to provide our readers with an immersive reading experience, which is why each Luverse story comes with special images carefully selected to complement each tale. With Luverse, you can fully immerse yourself in the world of romantic fiction and bring your imagination to life.
Question:
Will Luverse provide me with a reading experience that's better than a physical book?
Answer:

Absolutely! With Luverse, you can enjoy a personalized reading experience like never before. Our My Library feature allows you to keep track of stories you have read and created and the ones you have marked as favorites. You can also remove any story from your library whenever you want. Plus, each story comes with a detailed summary and hashtags to help you find the ones that suit your interests.
Question:
What if I have a specific preference for my romance stories?
Answer:

No matter your preferences, we have got you covered! Luverse offers various genres and themes for readers of all tastes. Our stories are carefully curated into categories and sections, and each story is tagged with specific keywords to make it easy for you to find your perfect match. Thanks to the Create your own story feature that uses the power of AI, Luverse will take care of your special requirements and create the stories of your dreams!
Question:
Can I adjust the font size of Luverse stories?
Answer:

Yes, you can! We understand that the pre-defined text size might not suit everyone's needs. When you start reading a story, you can easily adjust the text size to your liking.
Question:
Do Luverse stories come with a description?
Answer:

Yes, they do! Each story in Luverse comes with a detailed summary and accurate hashtags that provide a sneak peek into the story's main events. It is an excellent way to decide which stories to read and which ones to skip.
Question:
Can I read Luverse stories confidently in public places?
Answer:

Yes, absolutely! We believe that everyone should be able to enjoy their favorite romantic stories without feeling uncomfortable. With Luverse, you don't have to be afraid of any sudden sounds or erotic content. Luverse has various customizable features, such as the ability to change the background image and adjust the font size to suit your preferences and make your reading experience as comfortable as possible. With Luverse, you can read with confidence wherever you are, whether it's on the bus, at the park, or in a coffee shop.
Question:
Can I customize my reading experience with Luverse?
Answer:

Absolutely! Luverse allows you to change the font size, background color, and other reading settings. This allows you to read comfortably and enjoyably.
Question:
How can I keep my private desires safe in Luverse?
Answer:

At Luverse, your privacy is our top priority. We understand that some stories may be too intimate to share, so we have added a Screen Lock feature to keep your personal content confidential. With Face ID/Touch ID enabled, you can rest assured that only you can access your Luverse content.
Question:
What rights do I have over the stories I create in Luverse?
Answer:

We are thrilled to see your creativity flourish with Luverse! You have the freedom to share your generated stories anywhere you like and incorporate them into your personal and commercial projects. Feel free to customize and adapt the stories to match your creative vision. It is important to keep in mind that while you have extensive usage rights, We retain ownership of the content, including copyrights and trademarks. This ensures that we can protect and continue offering exciting experiences to our users. As a result, selling the stories or creating standalone products, such as books, using them is not permitted. We appreciate your understanding and look forward to seeing the amazing ways you bring your stories to life within the terms of our license.